This is one of the most researched birds in the world and has been traditionally used for falconry. It is one of the most widespread species and although badly affected by the pesticide crisis is now back to former numbers in most parts of its range.
Some of our Peregrine work, including satellite tracking data, are given in Falco, the newsletter of the Middle East Falcon Research Group, available from
www.mefrg.org
Research on Peregrine Falcons in Northern Eurasia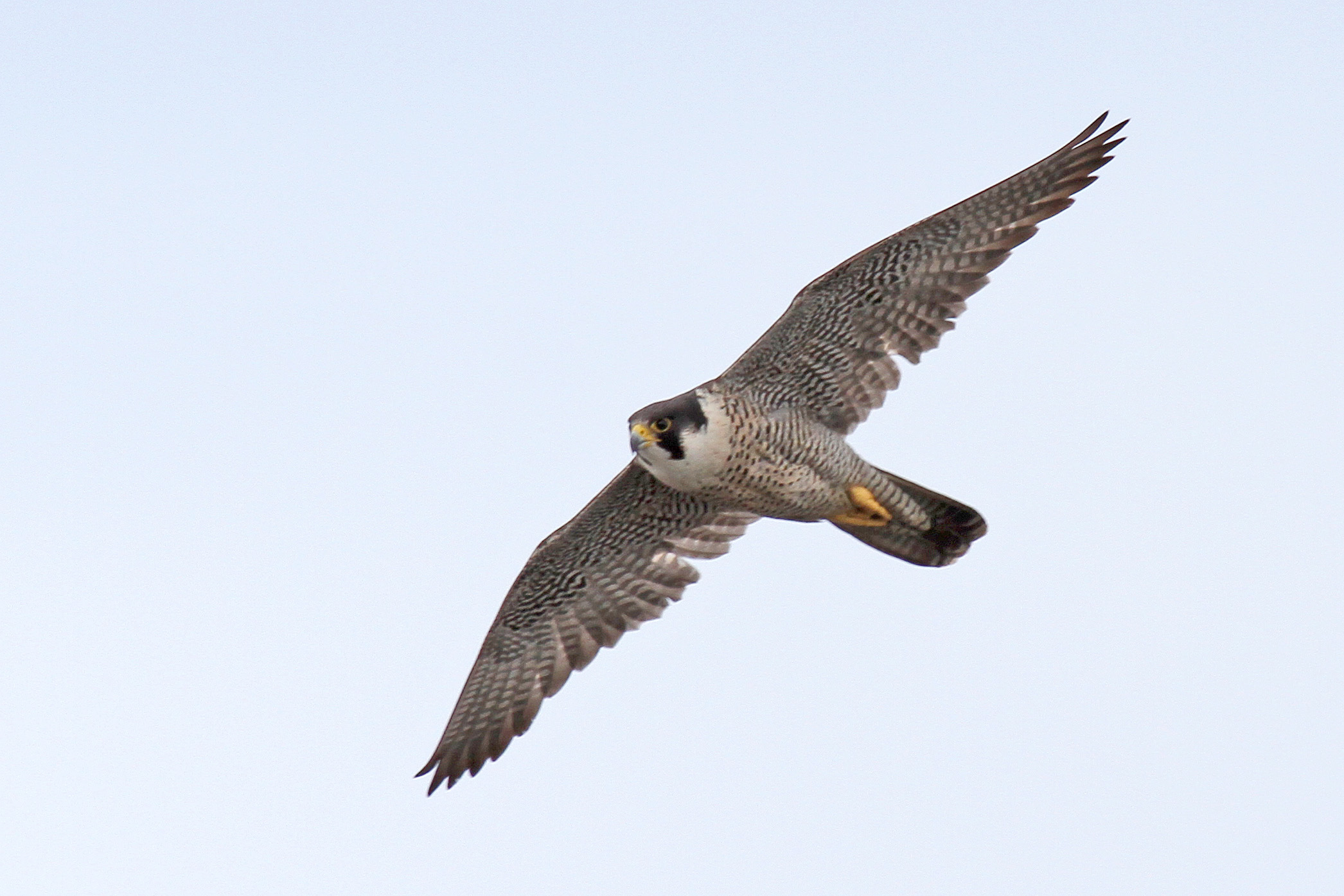 Our research on the migratory Peregrines of northern Eurasia is investigating physical, genetic and behavioural variation within the breeding population across the Russian Arctic.

Three subspecies of Peregrines (Falco peregrinus peregrinus, Falco peregrinus calidus and Falco peregrinus japonensis) breed across the 7,500 km of Siberian tundra that stretches from Lapland to the Bering Sea; peregrinus in the west grading through calidus in central Siberia to japonensis in the east. There is very little information on the Peregrines that breed in this remote part of the world and even less on their migratory movements and wintering behaviour. We are investigating genetic variation among the breeding populations across the Russian Arctic and by fitting satellite tags we are tracking their migrations across Eurasia south to their wintering grounds.
أبحاث في صقور الشاهين في شمال أوراسيا
تتكاثر ثلاث تحت-أنواع من صقور الشاهين - الجوالة Falco peregrinus peregrinusوالكايدونية Falco peregrinus calidus واليابانية japonensis peregrinus Falco - على امتداد 7,500 كلم من أراضي التندرا السيبيرية من أراضي لابلاند إلى بحر بيرنج، وتتدرج سلالات صقر الشاهين من الجوال في الغرب إلى الكاليدوني في وسط سيبيريا وإلى الياباني في الشرق. لا يتوفر إلا القليل من المعلومات عن الشواهين التي تتكاثر في تلك المنطقة النائية من العالم بل وأقل عن تحركاتها المهاجرة وسلوكها الشتوي. نجري أبحاثا في التنوع الجيني للأعداد المتكاثرة عبر المناطق القطبية الروسية، ونثبت مرسلات الأقمار الصناعية على الصقور، ونتتبعها في هجرتها جنوبا عبر أوراسيا إلى مناطق التشتية.
Conservation and Research
The Saker Falcon
Peregrine Falcon
Animal welfare